Newest
Tees


Recent
Tees
Album
Cover Tees

Collectible
Tees

Yellow
Sub Tees
Long Sleeve
Tees &
Sweatshirts
Boys
Youth
Size Tees

Find Beatles tees by size: Adult
Youth
Ladies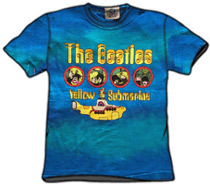 Youth Size Yellow Sub T-shirt - Portholes - Boy's Cut - Youth Tie Dye Tee
$22.95 $19.95 On Sale!
11893. Richly colored, youth size blue-green tie dye tee. Beatles Portholes image with Beatles name and Yellow Submarine image. Shirt measurement across the front if laid flat and measured under the arms: Sm-15", Med-16", Lg-17". Length from back collar to hem: Sm-19", Med-20", Lg-21". Unisex Youth sizes Small - Large. Unisex boy's style worn by boys or girls.